The screw separation machine is kind of material grading equipment through the theory of using the different proportion of the solid particles And the different speeds of the liquid setting velocity. It can separate and filter the grinded materials and then uses the screw panel to send the coarse materials to the feeding port, and discharges the screwed fine materials through the overflow pipe.
The akins classifier is mainly composed of gearing, spirochaeta, trough, lifting structure, lower supporting seat (bush) and discharging valve. According to the different structures, it can be divided into three types, namely shaking table separation, drum separator and screw grader.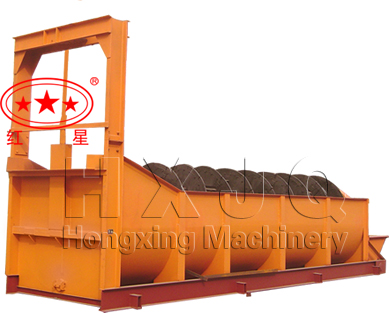 The Usage of the Screw Separation Machine
The screw grader is widely used for slurry particle size classification in the metal beneficiation process. At the same time, it can be used to deslime and dehydrate in the ore dressing process. This machine is usually made up closed circuit with ball mill, which is suitable for the wet magnetic separation of the granularity below 3mm magnetite, pyrrhotite, roasted ore, ilmenite and other materials. Besides, it can be used in the iron-removal operation of the coal, non-ferrous metal, building materials and other materials.
The base of the akins classifier adopts the channel steel, and its body is made of welded steel plate, which is strong and sturdy and has a long service life. The classification tank of the shaking table separation has a larger inclination angle, the tank bottom angle is 12°-18.5°; the base is semicircular, which facilitates the artesian connection to the mill. The vessel is attached to I or 2 longitudinal axes, the helical blade is disposed continuously along the shaft length, by the upper end of the drive device, the screw shaft are driven to rotate.