PEY series hydraulic jaw crusher is one type tilting crusher with overload protection function.
The load of machine will soar when crushing some unbroken materials, and then the hydraulic protection device can decrease the load automatically in order to avoid the sudden load greatly impacting the body. This machine can safely be used in the crushing projects of those foreign materials with extreme hardness.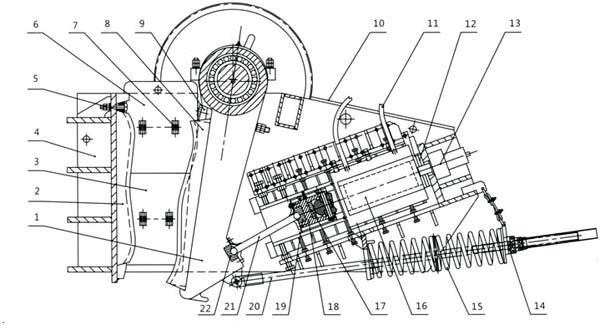 1. Movable jaw body 2. Fixed tooth plate 3. Below the shield 4. Frame body 5. Fixed tooth plate compacts 6. Top guard 7. Side fender bolts 8. Events tooth plate 9. Movable jaw plate 10. Dust collector 11. Hydraulic soft Road 12. Adjustment mats 13. Small hydraulic cylinders 14. Spring rod section 15. Spring 16. Hydraulic cylinders 17. Wear Plates 18. Ski brackets seat 19. After the bracket pad 20. Spring rod 21. Brackets 22. Front bracket pad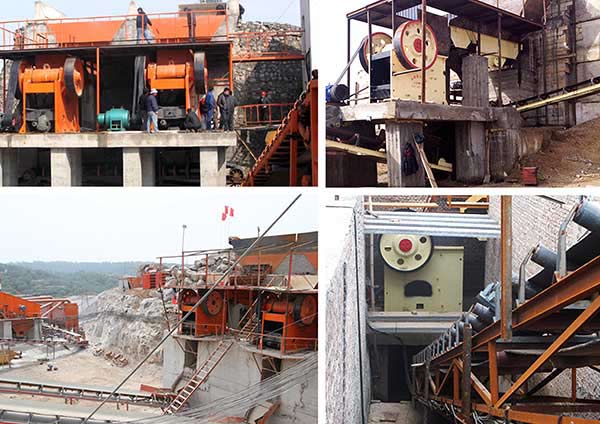 To open the cylinder path leading to the tank in order to reduce the pressure of oil cylinder, and the movable jaw will enlarge the discharging port under the power of weight and spring tension in order to discharge the unbroken materials, and this process can be named "over iron". To cut off the path between fuel tank and tank after solving the above problem, and to open the oil circuit of oil cylinder can make the machine operating again by recovering the prior discharging size.
This machine is made up of three main parts: pendulum jaw mainframe, hydraulic protection device and controlling cabinet.