Mobile crushing station is one mining mechanical equipment for all kinds of mineral ore crushing, and it has replaced the position of stationary crushers to become one of the most important mining equipment. The function of mobile crushing station is becoming more, and it can be divided into two types, one is crawler mobile crushing station, and the other is wheel type mobile crushing station.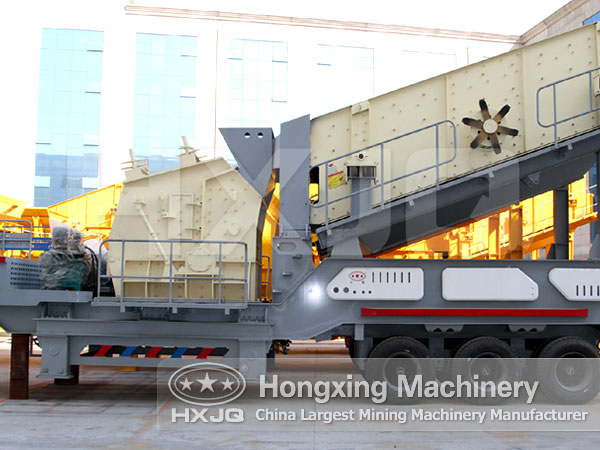 Hongxing mining machinery is one professional mining equipment manufacturer, and our experts warn that choosing the most reasonable mobile crushing station can be the most important step for our customers, and today our experts will tell you some tips to choose the better mobile crushing station.
Firstly, to choose the machine according to the crushed materials is one obvious choosing condition, such as to choose one equipment with the larger feeding and discharging port because of the large-sized materials. Both jaw crusher and impact crusher can be chosen in the above situation because they are owning the bigger feeding and discharging port while hammer crusher owns the smaller port, so that is the reason why we tell our customers to choose the crushers on the basis of their true situation.
Jaw crusher often can be chosen in processing the materials with higher hardness such as pebbles, granite whose compression strength is more or less 350Mpa, we recommend our customers to choose this one because the wear-resistant features of it is very good, so the lifespan of those wearing parts can be used longer than that of the others.