The Basalt Crushing Equipment Made by Hongxing
In the actual crushing operation, it is quite hard to crush basalt, a hard and tough material with high silica content, the crushing cost of which is quite high. Thus, the basalt crushing process must be designed reasonably, considering the investment cost of the crushing project and the production cost of the production line. In the basalt crushing process, some wear-resistant parts will be worn badly like the jaw plate so that you're suggested to adopt the crushing equipment with lamination principle to decrease the abrasion of them. The typical lamination equipment allocation is the combination of the PE jaw crusher and the PEX jaw crusher or the one of the jaw crusher and the cone crusher. If the user has high requirement in the particle shape, the impact crusher can be adopted. Besides, the jaw crusher and the impact crusher can be adopted together. Next, some basalt crushing machines will be recommended to you by Hongxing.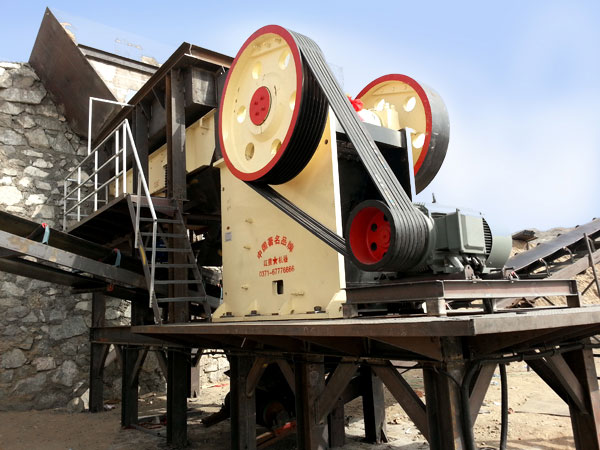 The Basalt Jaw Crusher
The basalt jaw crusher has many advantages, such as simple structure, reliable operation, low running cost, big crushing ratio, even particle size, etc. It can meet the requirements of different users. Besides, it is of energy conservation, less noise, less dust. With these features, it has quite obvious superiority in crushing hard material like basalt.
The Basalt Impact Crusher
The size of its inlet is big. It has deep crushing cavity. The basalt impact crusher can be used to crush the material with high hardness and big block. The discharging particle size can be adjusted and its final product is of nice shape.
The Basalt Cone Crusher
With the introduction of the foreign technique, according to the clients' requirement, on the basis of the lamination principle, the modern high-performance spring cone crusher has been developed, which is widely used due to its features, such as nice stability, reliable operation, low production cost.
The Basalt Sand Maker
The basalt sand maker made by Hongxing is of simple installation and operation, big handling capacity, high output, etc. It is of many functions, less noise, less pollution. It is a good choice to choose the basalt sand maker, which is environmental-friendly.