More and more countries are beginning to pay attention to the recycling of those natural resources with the international economic development. To produce the artificial sand has become the first choice of those engineering projects, which is beneficial to satisfy the enormous marketing demand of the whole mining market with the rapid development of establishing the infrastructure construction, so that is the reason why the demand for sand making machines is being increased in one short time. Hongxing mining machinery, as one of the most famous manufacturers in this field, improves its own technological percentage while building one famous brand in this field, and 150 t/h basalt production line designed by our company can prove its higher performance characteristics.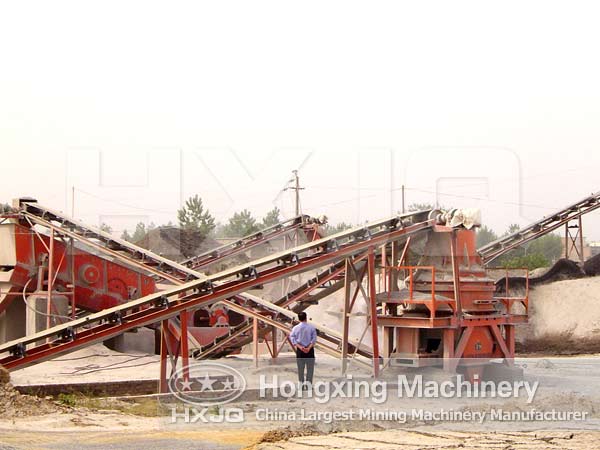 150 t/h basalt production line is mainly consisting of vibrating feeder, jaw crusher, vertical shaft impact crusher, vibrating screen, belt conveyor, the integrated controlling device and so on, and the advantages of this production line includes the small occupied footprint, lower investment, higher profit, excellent finished products, the lower powder production ratio. The operation process can be introduced: firstly, the materials should be sent to the jaw crusher for the coarse crushing, and then the crushed materials will be sent to the crushers for the secondary crushing by belt conveyor. The crushed materials will be divided into three types according to the different sizes, and the bigger stones will be sent to the crushers to be crushed again, and our company will provide the advanced electric operation controlling system for our customers in order to guarantee the smooth operation.
The reason why 150 t/h basalt production line can get the higher praise from the customers is owing to its better quality, credible operation, advanced technology, and our company also sacrifices so much for reaching the purpose of establishing one famous brand. Our company not only provides the crushers with different types and specification, but also helps them to design the complete stone crushing equipment, including the artificial sand production line and the mineral ore production lines. We have been pursuing for the best quality, the perfect sales service in order to help our customers in time. Just let us know if there is anything that you want to know, and you also can leave one message or click the "chat online" to communicate with us, and we will reply you asap.