The Advantages of PF Series Impact Crusher
Impact crusher is a kind of medium fine crushing equipment. After repeated proof, the comprehensive performance of the finished grain type of the impact stone crusher machine is far superior to the cone crusher and hammer crusher, which is the necessary equipment for highway stone materials. Impact crusher adopts no key connection method, and the overall strength of the equipment is high, easy to use, low maintenance rate, and the size of the finished product can be adjusted. Its efficiency is high, and has good safety performance. The final products is polyhedral, bonding tightly with concrete, which is a kind of highway equipment required by nationality. In addition, the wearing parts has high wear resistance. Compared to cone crusher, impact crusher is less investment, less flake stone in final products and low production cost. Compared to hammer crusher, the accessories has long use time, high efficiency, and low investment in the later stage.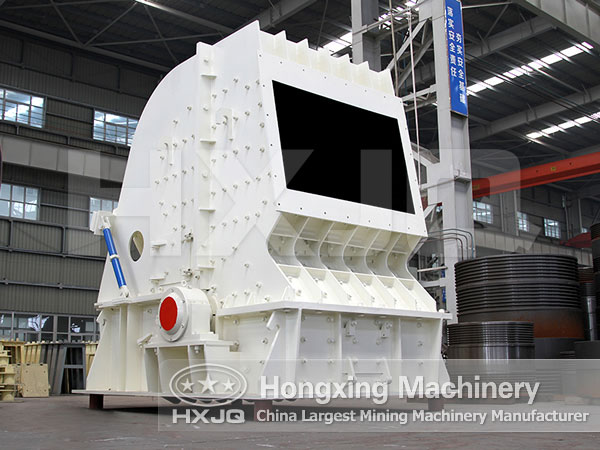 Impact crusher has multi-stage counter cavity, enough space for crushing, suitable for crushing large pieces of materials. The angle of the crusher plate can be adjusted, to ensure that the crushing efficiency can be effectively improved when the material is hit repeatedly between the impact plate and the rotor at an appropriate angle. The energy consumption in the crushing process can be effectively reduced.
When foreign materials (such as iron, etc.) or non-decomposed materials enter the crusher, the impacting plate can automatically roll back and bounce to allow foreign bodies to pass through the crusher, which can prevent damage to the equipment caused by foreign bodies (such as iron, etc.) or non-broken materials.
The plate hammer is firmly fixed on the rotor, so that the starting torque of the crusher is small, the dynamic balance performance of rotor is easy to control and the dynamic disturbance is small. Finally, the impact crusher smooth start.
The frame part is a triad structure. As long as open the back of the crusher shell, uses can replace the plate hammer, counterattack plate, lining plate or do other overhaul and maintenance work. The components has strong interchangeability, less vulnerable parts, which is easy to spare parts procurement and management.
The hydraulic opening device is used for the opening and closing of the housing, which can effectively reduce the maintenance labor intensity, improve the maintenance efficiency and reduce the maintenance time.
The monitoring system can monitor the operation condition of the crusher at any time, and the monitoring signal can be interlocked with the main control system to ensure the safety and reliable operation of the machine.
The driving system adopts motor, mechanical coupling and v-type belt crusher, which can effectively improve the start performance of the motor. The conveyor can serve the dual function of overload. The needed motor power of driving system is low, greatly reducing the operation cost. This driving plan is a cost-effective, high-performance, safe and reliable drive solution.