!–-[if lt IE 8]> <![endif]–->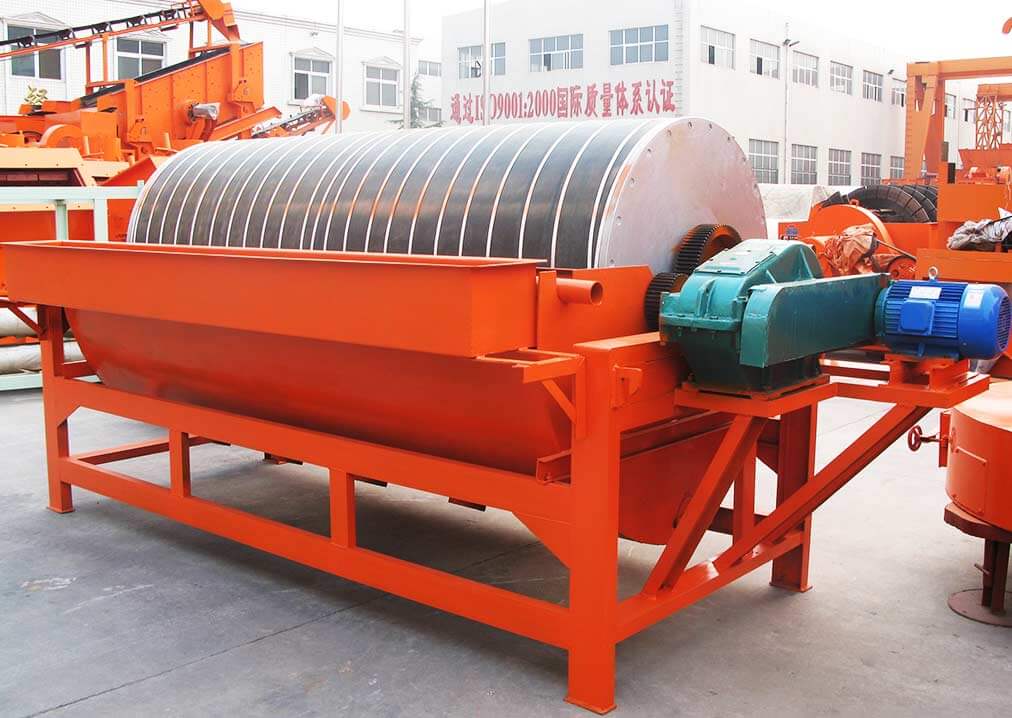 Magnetic Separator
Application fields: wet magnetic separation of magnetite, pyrrhotite, roasting ore, ilmenite and other materials with a particle size of 3 mm or less.
Processing ability:

10–280 t/h

Feeding size:

2-0 mm
Applied materials: iron ore, hematite, pyrrhotite, limonite, roasting ore, ilmenite, magnetite, copper ore, gold ore, coal, quartz, etc
The Introduction of Magnetic Separator
The magnetic separator is applied to conduct the wet-type magnetic separation to process magnetite, pyrrhotite, calcined ore, ilmenite, etc. It can also be used to remove iron from some materials, such as coal, non-metal ores, building materials, and so on. The magnetic separator's magnetic system is made from excellent ferrite or the combination of it and rare earth magnetic steel. The average magnetic induction of the drum surface is 100-600mT. The magnetic separator, made by Hongxing, has many advantages, such as simple structure, big handling capacity, etc.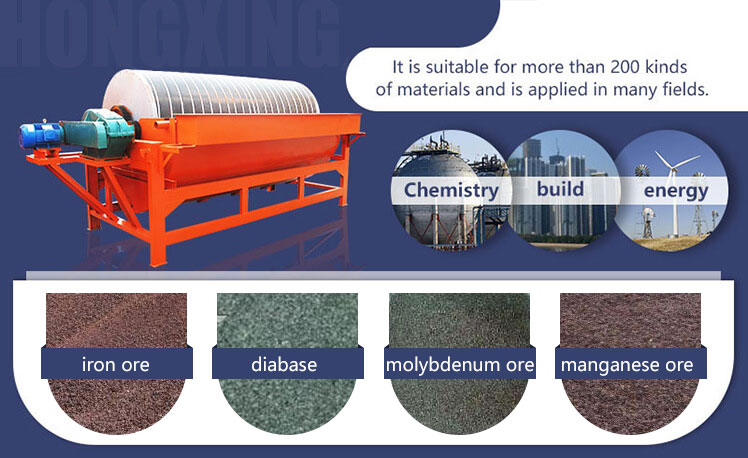 The Working Principle of Magnetic Separator
Ore pulp flows into the tank of the magnetic separator from the feeding box. With the flowing water from the water jet, the scattering ore particles are sent into the ore feeding part of the magnetic separator. In the magnetic field, the magnetic ore particles form a magnetic mass or magnetic chain, which, due to the magnetism, are attached to the drum.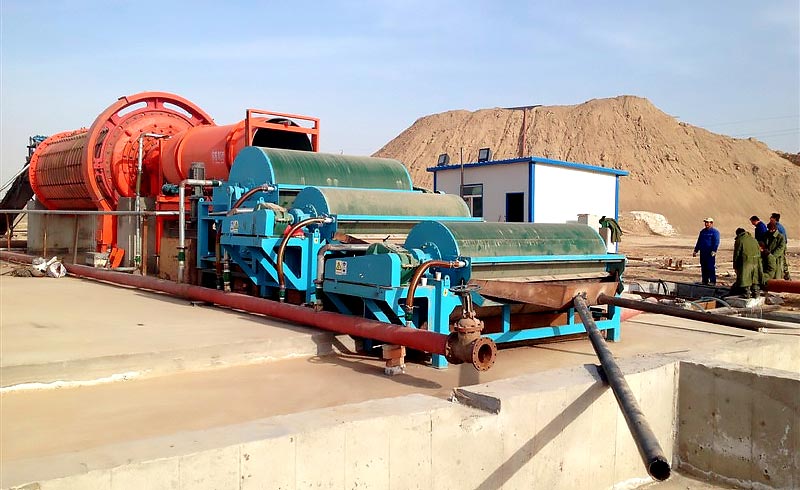 The Classification of Magnetic Separator
According to magnet type, the magnetic separators can be divided into the permanent magnetic separator and the electromagnetic iron remover. By the mineral processing methods, it can be divided into the dry-type iron remover and the wet-type iron remover. By different magnetic systems, there are the drum-type magnetic separator, roller-type one, and the drum and roller-type one. Due to the differences in structure, there are the single-drum magnetic separator, double-type one, and the multi-drum one. There are also some other kinds of classification methods of it.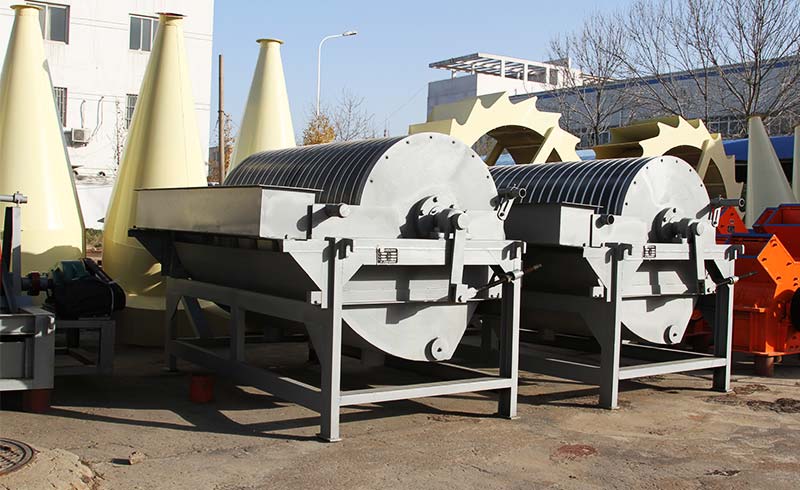 Learn More About Us
The magnetic separator has a wide range of applications, and its final product quality is high and its grade is high. Not only magnetic separators, but other products of our company are exported to all over the world. Customers from different countries and regions will also choose to come to our company for field visits. If you are interested in our machines, you can contact our online customer service or leave your contact information in the message box at the bottom of the page, we will contact you in time. We also warmly welcome you to visit our company.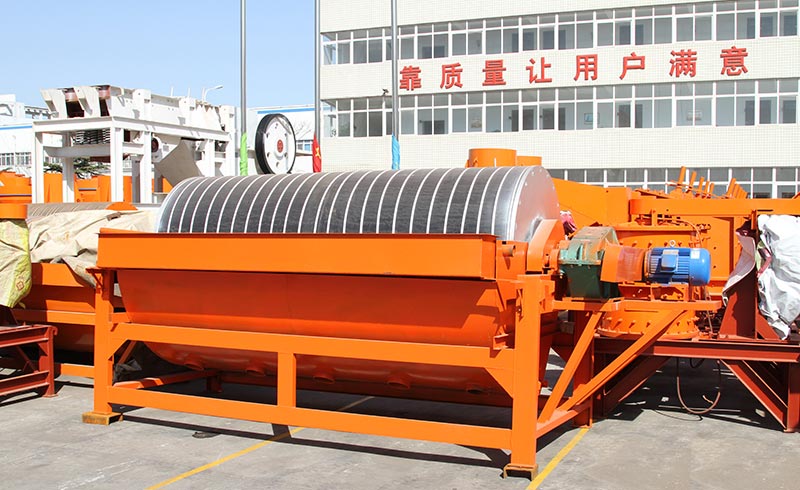 Technical data

Model
Shell diameter
(mm)
Shell lenght
(mm)
Shell rotation
speed(r/min)
Feeding size
(mm)
Processing capacoty
(t/h)
Power(kw)
CTB6012
600
1200
<35
2-0
10-20
1.5
CTB6018
600
1800
<35
2-0
15-30
2.2
CTB7518
750
1800
<35
2-0
20-45
2.2
CTB9018
900
1800
<35
3-0
40-60
3
CTB9021
900
2100
<35
3-0
45-60
3
CTB9024
900
2400
<28
3-0
45-70
4
CTB1018
1050
1800
<20
3-0
50-75
5.5
CTB1021
1050
2100
<20
3-0
50-100
5.5
CTB1024
1050
2400
<20
3-0
60-120
5.5
CTB1218
1200
1800
<18
3-0
80-140
5.5
CTB1224
1200
2400
<18
3-0
85-180
7.5
CTB1230
1200
3000
<18
3-0
100-180
7.5
CTB1530
1500
3000
<14
3-0
170-280
11
Contact Us
Improving operational efficiency, increasing profitability and reducing risks starts here
Complete the form or email us (info@hxjq.com) , we will reply to you within 24 hours.
Better to try now / Waiting For Your Inquiry
Contact Form
Please tell us your needs like production capacity, we have professional engineers to customize the proper production process for you.
CONTACT US
Tel:86-0371-67833161
Office Add:No.8, Tanxiang Road, Zhengzhou, Henan, China.
E-mail:info@hxjq.com
QUICK LINKS
Privacy Guarantee

Hi,may I help you with products, price, etc?