The Inner Structure and Application of Flotation Machine:
This flotation machine is suitable for separating non-ferrous and ferrous metals as well as non metals such as fluorite and talc.The structure of flotation machine: this machine is mainly composed of pulp chute, mixing device, air charging system, mineralized bubble discharging device and electro motor.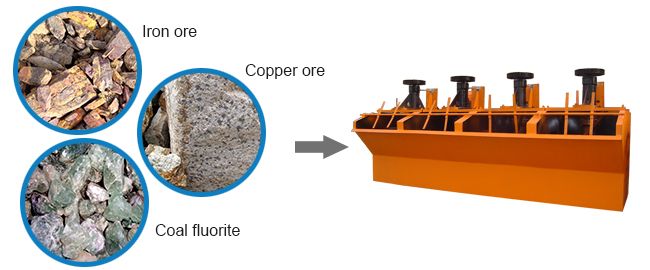 The Working Process of Flotation Machine:
This machine runs by the triangle belt of the electrical motor driving the impellor to rotate, producing centrifugal effect which will form negative pressure, and on one hand it will absorb sufficient air in order to mix with the pulp, and on the other hand it will mix the pulp in order to mix with the reagents, and at the same time will refine the foam in order to stick the minerals onto the foam, and float on the surface of the pulp in order to become mineralization foam. The workers can adjust the height of the flashboard and control the liquid level in order to scrap the useful foam.