Product Introduction
The shaking table is a gravity dressing machine used for separating fine particles. They are mainly used for various metals such as gold, silver, zinc, tungsten, iron, manganese, lead and coal and heavy metal materials. It is suitable for different grades of materials such as 2-0.5mm, coarse sand of 0.5-0.074mm, fine sand, and slime of 0.074mm. When the beneficiation shaker processes tungsten or tin metal ore materials, the effective recovery range of the equipment is 2-0.22 mm.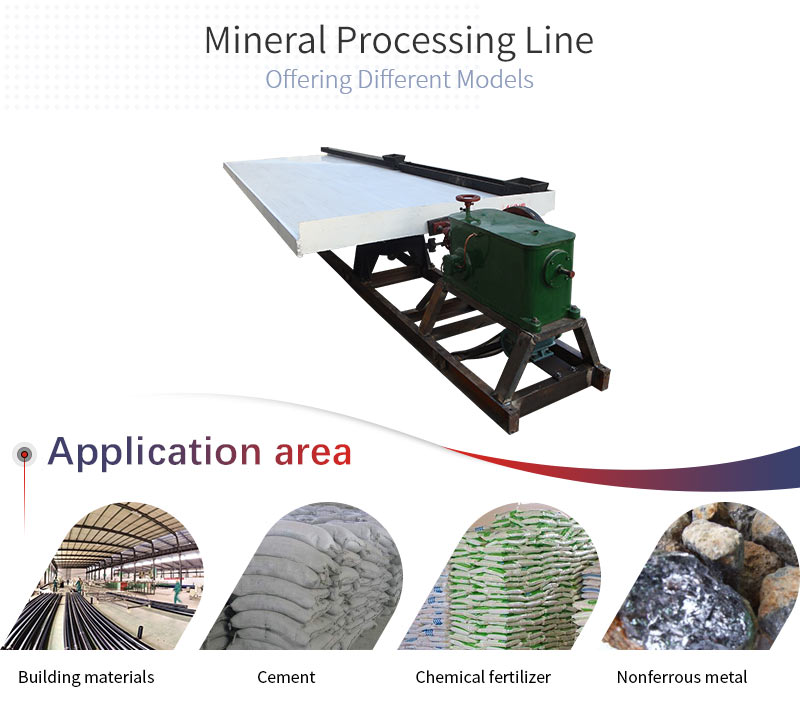 Shaking Table Features:
1. High concentrating ratio, high beneficiation efficiency.

2. Simple operation. It can realize the final concentrating and final tailing only for once.

3. Compared with traditional technology, without reagent.

4. Low energy consumption; high performance.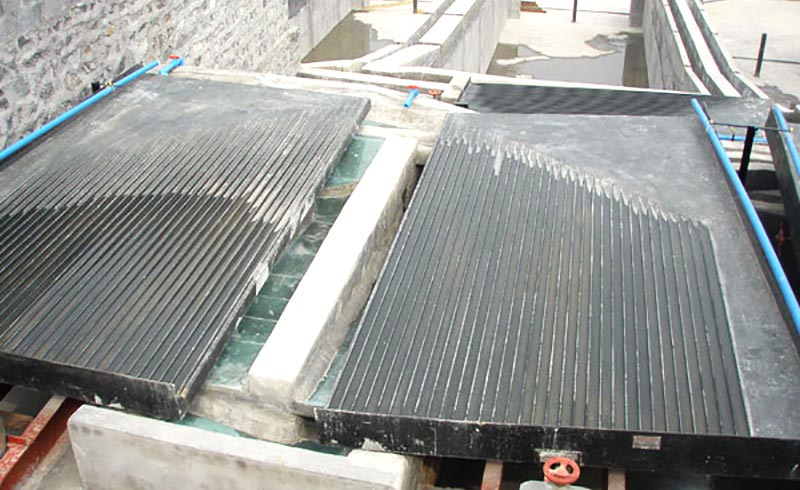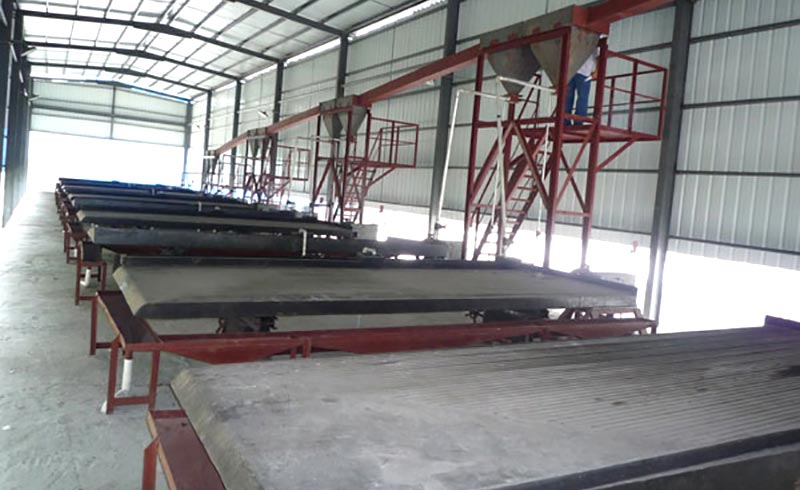 Product
image
presentation
Why Choose Our Products
40 years of development history; products are exported to more than 120 countries; more than 2,300 online employees; covering an area of 350,000 square meters.
The company has introduced advanced technology from the United States, Germany, Japan, Australia, and other countries, and established advanced production lines and first-class modern testing plants.
The company has rapidly grown into a mining machinery production and export factory in China with scientific management methods, refined manufacturing processes, and innovative manufacturing concepts.
Technical data
Name
Grit
concentrator
table
Fine sand
concentrator
table
Sludge
concentrator
table
Bed surface
Dimensions
Length
(mm)
4450
4450
4450
Driving
part Width
(mm)
1855
1855
1855
Concentrate
part Width
(mm)
1546
1546
1546
Max.feeding
size(mm)
2
0.5
0.15
Feeding
amount
(t/d)
30-60
10-20
15-25
Feeding
thickness
(%)
25-30
20-25
15-25
Stroke
(mm)
16-22
11-16
8-16
Frequency
(f)
45-48
48-53
50-57
Bed surface
Water quantity
(t/d)
80-150
30-60
10-17
Bed surface
Horizontal
obliquity(°)
2.5-4.5
1.5-3.5
1-2
Bed surface
Portrait
obliquity(%)
1.4
0.92
----
Table board
corner(°)
32-42
40
42
Concentrating
area(㎡)
7.6
7.6
7.6
Bed surface
Length ratio
2.6
2.6
2.6
Shape of
side-bed
surface
Rectangle
Zigzag
Triangle
Motor
power(kw)
1.1
1.1
1.1
Transmission
device
Eccentricity Linkage
Name
Max.feeding
size(mm)
Bed surface
Water quantity
(t/d)
Grit
concentrator
table
2
80-150
Fine sand
concentrator
table
0.5
30-60
Sludge
concentrator
table
0.15
10-17
For customization, please contact us.