Product Introduction
The sand maker is the necessary equipment for the artificial sand. It adopts the principle and technology of the "stone hitting stone" crusher, which makes the finished product in excellent grain shape, reasonable gradation and improved production efficiency, especially suitable for artificial sand making and tone shaping.
It is widely used in many fields such as metallurgy, mining, building materials, construction, highways, etc., and its value for application is excellent enough to create high economic benefits for customers.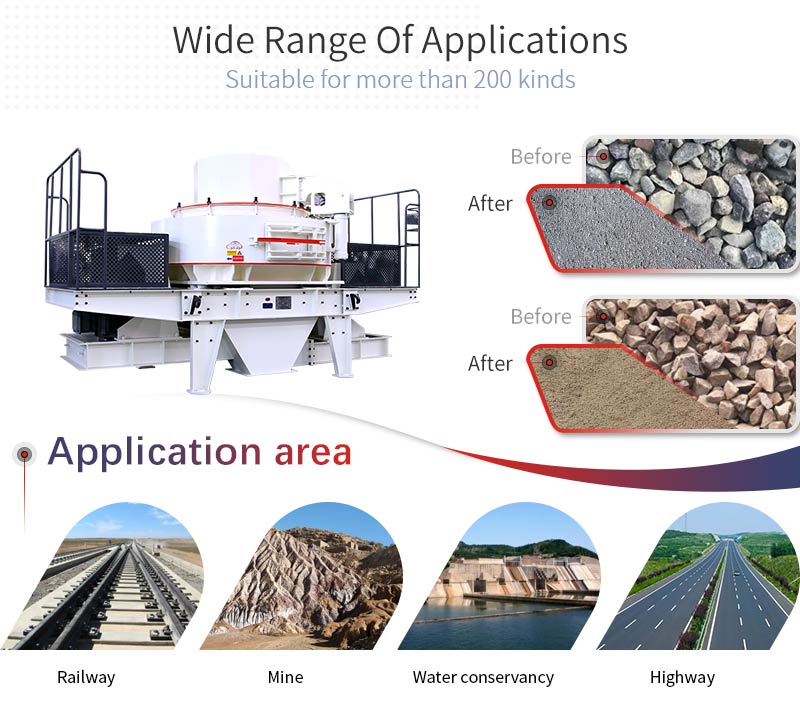 Sand Maker Features:
1. The sand maker has a simple structure, unique bearing, and advanced spindle design, which makes the sand maker have the characteristics of heavy load and high-speed rotation.

2. The sand maker has a good shaping function for the ore, and the finished material has a more uniform particle size.

3. With the functions of high efficiency and energy saving, high wear resistance, the long service life of wearing parts.

4. During the production process, the stone material can form a protective bottom layer, and the body is wear-free and durable.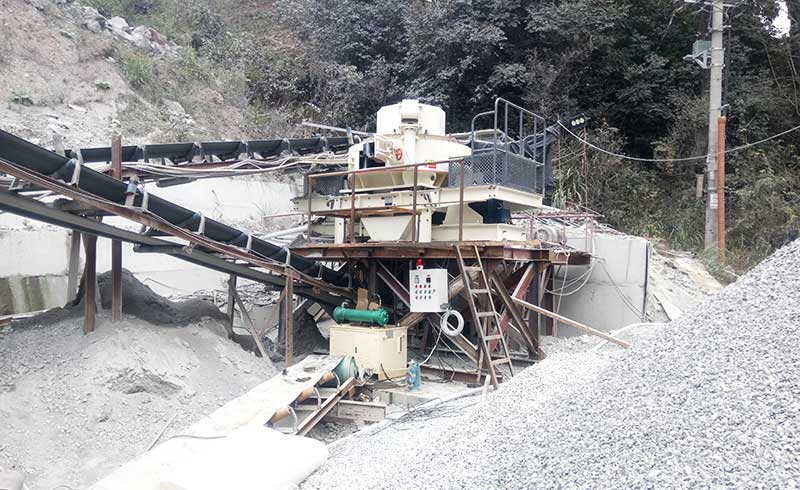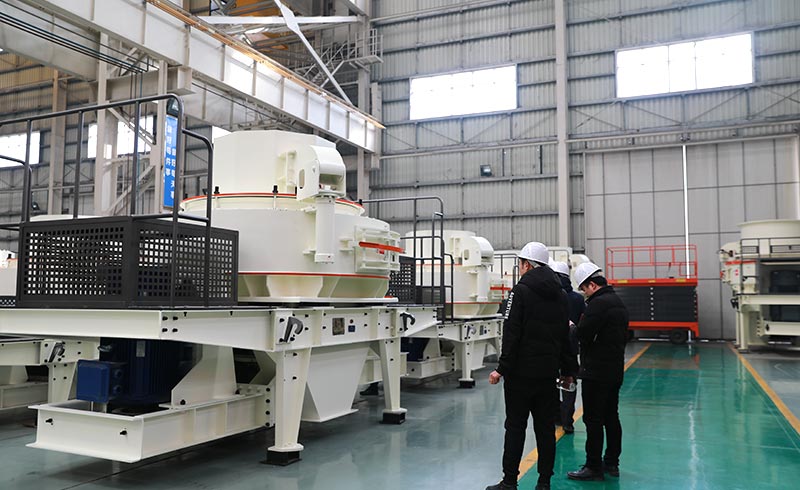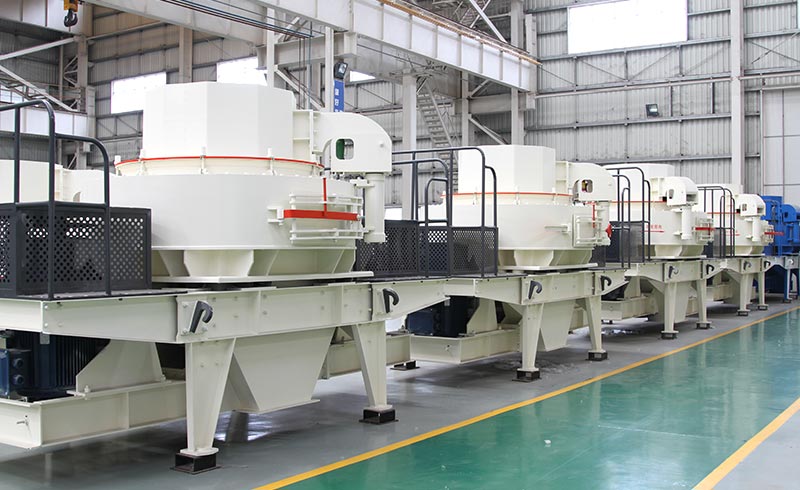 Product
image
presentation
Investment and Return
Our company's customers come from different countries and regions in the world. A customer from Zimbabwe visited our company twice to conduct field visits and purchase sand making machines made by our company. The customer believes that the sand making machine produced by our company adopts the better impact angle design of the crushing chamber material, and the wearing parts are not easy to wear and consume, which directly reduces the use cost of the production equipment. Save customers 20% of their budget. The customer is very satisfied with the product.
Technical data
Sand Maker
VSI Sand Maker
Model
specification
Max.feeding
size
(mm)
Power
(kw)
Rotation
speed of
impeller
(r/min)
Capacity
(t/h)
Overall
dimension
(L×W×H)
(mm)
HX-06
35
2P 37-55KW
2000-3000
12-30
2500×1620×2600
HX-07
45
4P 55-75KW
1500-2500
25-55
2700×1760×2800
HX-09
50
4P 110-150KW
1200-2000
55-100
3900×2000×3070
HX-10
60
4P 150-180KW
1000-1700
100-160
4600×2350×3450
Model
HXVSI-7611
HXVSI-8518
HXVSI-9526
HXVSI-1140
HXVSI-1145
HXVSI-1150
Capacity
(t/h)
Feed both
at center
and sides
120-180
200-260
300-380
450-520
500-610
520-650
Feed at
center
60-90
100-130
150-190
225-260
245-355
255-365
Max.feeding
size(mm)
Soft
material
35
40
45
50
50
50
Hard
material
30
35
40
40
45
45
Rotation
speed
(r/min)
1700-1890
1520-1690
1360-1510
1180-1310
1150-1300
1150-1300
Double Motor
power(kw)
4P 110
4P 180
4P 264
4P 400
4P 400
4P 500
Overall dimension
(L×W×H)(mm)
3700×2150×2100
4140×2280×2425
4560×2447×2778
5100×2700×3300
5500×2700×3300
5500×2700×3300
Power supply
380V 50HZ
Lubrication
station
Double
motor
power of
oil pump
2×0.31Kw
Safety
assuance
Double oil pumps assure enough oil supply:automatic
switch off with no oil stream or pressure,water cooling
in summer,motor heating stare-up in winter.
Overall
dimension
(L×W×H)
(mm)
820×520×1270
Power of oil
tank heater
2KW
Sand Maker
VSI Sand Maker
Model
specification
Max.feeding
size(mm)
Capacity
(t/h)
HX-06
35
12-30
HX-07
45
25-55
HX-09
50
55-100
HX-10
60
100-160
Model
Capacity
(t/h)
Feed both
at center
and sides
Feed at
center
HXVSI-7611
120-180
60-90
HXVSI-8518
200-260
100-130
HXVSI-9526
300-380
150-190
HXVSI-1140
450-520
225-260
HXVSI-1145
500-610
245-355
HXVSI-1150
520-650
255-365
For customization, please contact us.
SOLUTION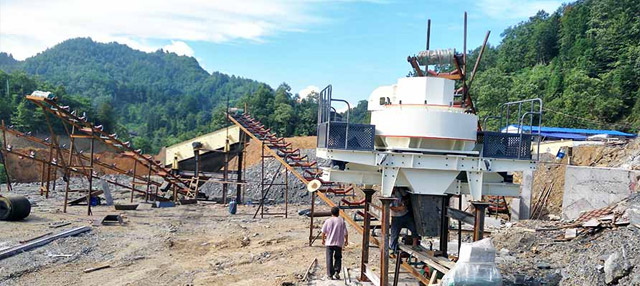 The sand maker is a German technology introduced by our company. The optimal crushing chamber material impact angle design is adopted. It is a new type of equipment that is widely used in metal and non-metallic ores, building materials, artificial sand and various metallurgical slags.
MORE +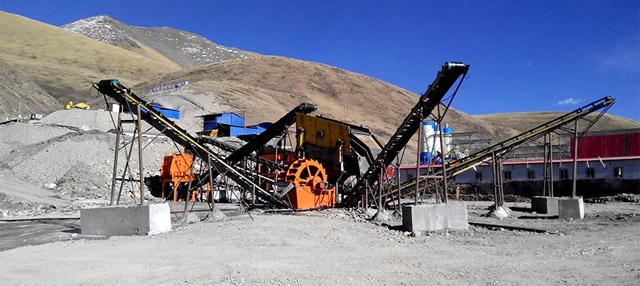 "Hongxing Heavy Industry" sand manufacturing plant, specializing in mining machinery crushing equipment, sand making equipment, industrial grinding milling equipment, sand production line quality management system and assurance system certification, export multi-country, sand production line Welcome
MORE +